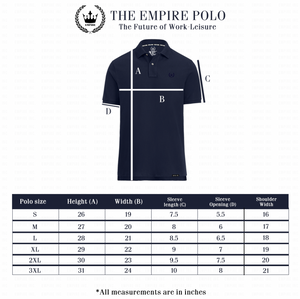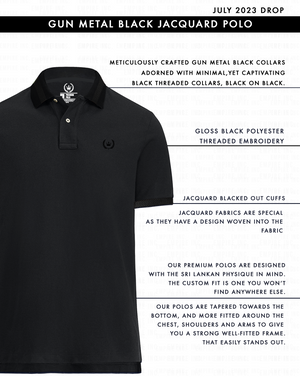 Gun Metal Black Jacquard Polo
The all-new Gun Metal Black Jacquard Polo is Confidence, Class & Power. An Empire masterpiece meticulously tailored to exude confidence and sophistication.
A Classy black on black design setting new standards. Luxury in every detail with Jet Black Jacquard collars adorned with captivating black threading add an elegant touch to this timeless piece.
Paired with Gloss Black embroidery of the Empire Laurels and crown on the left chest, to give a subtle yet powerful touch.
Our signature custom fit accentuates your physique and makes you look fit with a subtle tapering towards the bottom, creating a strong, well-fitted frame that commands attention wherever you go.
This Polo is designed for a Slim Fit. Tuck it in, wear it out, rock it to the golf-course, to dinner, for a date. Basically, wear this piece anywhere you'd want to turn heads.

Fabric Composition: 95/5 Cotton-Polyester